Uniforms & Merchandise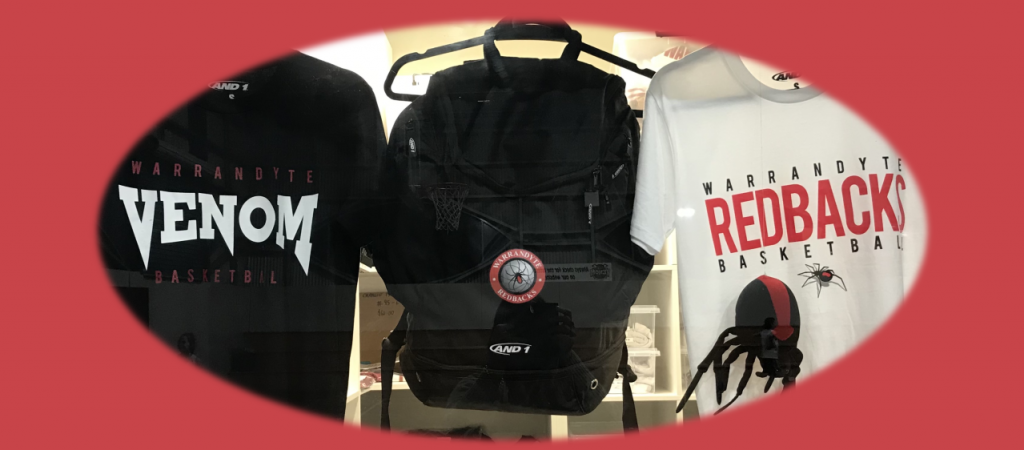 The Warrandyte Basketball Uniform & Merchandise shop continues to operate from the Warrandyte Sports Complex . You will find more information on the location of the stadium here. To locate the shop walk through the main entrance into the court and you will find it on the left-hand side half way down.
The shop does not open on public holidays or during school holidays and is staffed by volunteers.
---
---
T Shirts are available for $20.00. New Venom and Redbacks hoodies are coming soon.
---
Enquire about Basketballs.
---
Fortnightly Opening Dates and Times: The shop is closed until further notice due to the Circuit Breaker Lockdown.
During the 2021 Redbacks Winter Season, parent volunteers will be opening the shop each week whilst their children attend training. These times will be updated fortnightly with the upcoming opening dates and times. Times will vary depending on availability.
| | |
| --- | --- |
| Monday – | 8:00PM – 8:30PM |
| Wednesday – | 6:15PM – 6:45PM |
| Thursday – | 4:00PM – 4:30PM |
| Monday – | 8:00PM – 8:30PM |
| Wednesday – | 6:15PM – 6:45PM |
Playing Singlets
The reversible playing singlets are individually printed on fabric with specified numbers and then sewn together. The uniform shop through AND1 are now able to provide our players with a female and male cut singlet. Please refer to the sizing charts for specific measurements for both the Venom & Redbacks singlets and shorts. Note: The sizing of different brand basketball uniforms vary greatly, do not guess sizes based on your current uniform unless it is and AND1 brand. All redbacks uniforms purchased prior to 2021 Winter Season are male cut.
---
---
The shop has a full range of sample sizes to try on prior to ordering if that is your preference. Please visit the shop at one of the opening times to be fitted and place an order with one of our volunteers.
Payment
Payment by card at the time of ordering is preferred.
# Numbers
Where possible we will endeavour to supply each player with their choice of number. This can be difficult as players cannot play with the same number in a team. When allocating a singlet number to a player the club establishes all the team members that person could play with in future seasons as they progress through the age groups. Potential team members depend on whether a player is born in the 1st or 2nd half of a particular year. Team members can be born 18 months either side of the half of the year a players birthday falls within.
EDJBA age groups differ in summer & winter seasons, primarily to give the players a greater and more varied playing experience. Further detailed information regarding age groups can be viewed here.
---
No products were found matching your selection.