Redbacks Summer 2023-24 Season Information
Our Summer 2023-24 registrations are now open!
The Summer 2023-24 season dates are 07 October April 2023 to 23 March 2024 which includes a final series run over the last 3 weeks. No games will be played over the Melbourne Cup weekend in November (Saturday 4 November 2023) or the Labour Day weekend in March (Saturday 9 March 2024). The competition will also have a break that coincides with the December/January School Holidays, with the last game of 2023 played on Saturday 16 December and no game then until Saturday 3 February 2024.
Age groups for the Summer season are:
U08's – 1st July 2015 or later
U10's – 1st July 2013 to 30th June 2015
U12's – 1st July 2011 to 30th June 2013
U14's – 1st July 2009 to 30th June 2011
U16's – 1st July 2007 to 30th June 2009
U18's – 1st July 2005 to 30th June 2007
U21's – 1st July 2002 to 30th June 2005
Home games are played at:
Warrandyte Sports Complex (WSC) – Andersons Creek Primary School, Drysdale Road, Warrandyte
Donvale Christian College (DCC) – 155 Tindals Rd, Donvale (access via Gate 1)
Away games are played in stadiums across the Eastern suburbs including Bulleen, Collingwood, Doncaster, Doreen, Balwyn, Eltham, Ivanhoe, Banyule and Blackburn.
Registration Fee: Registration for Warrandyte Redbacks Summer Season 2023-24 is now open until Sunday 10 September 2023. The discounted registration fee of $295 (Early Bird Fee) will be offered until this date..
Registration enquiries made after 12:00am on 11 September 2023 need to contact and will be placed on a waitlist.  If a position is available, you will be contacted to register and the full registration fee of $315 will apply.  Please do not register without receiving confirmation of a place, as an administration fee will be deducted from any refund.
The registration fee includes the weekly game fee, including finals, for the season.
Basketball Victoria Annual Participant Licence Fee: A separate fee of $29 for 17 years and under, and $43 for older players 18 and over, may be added to the final price if players don't already have a licence which covers them for the full season in which they are registering. This 365-day Basketball Victoria licence (affiliation) covers persons participating in Basketball Victoria sanctioned activities. The licence allows a participant to play, with base level insurance cover, as many times as they like within 365-days across any affiliated association or club in Victoria. Insurance is provided by V-Insurance Group.
Refund Policy: Warrandyte Basketball understands that situations may arise where a player is unable to continue playing, after their registration fee has been paid. Please refer to our Registration Refund Policy, which applies to all program participants.
PlayHQ Registrations: To register a child for the first time, a parent will need to initially set up their own PlayHQ account. Once done, a parent will be able to register their child/ren as dependents under that account. It is best to use a personal email that you will use on a long term basis as you will need this to log into your account in the future. When logged into PlayHQ, the link below will go direct to the registration page. Otherwise, sign in and search 'Warrandyte Basketball', then click on the 'Register' option and then select Summer 2023-24 Season.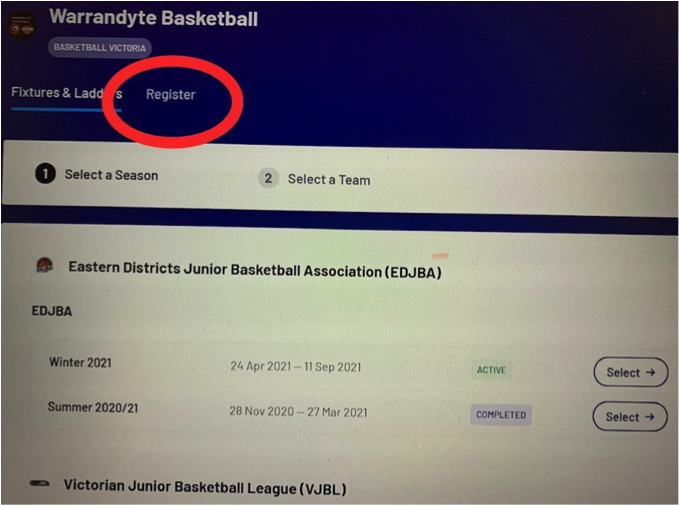 Team Selection: The Club's selection panel use a range of different criteria when selecting teams. Redbacks is a great opportunity for players to meet new people and play to their full potential with similar skilled players. Friendship/custom teams will only be considered where a complete set of 7-8 players and a coach are nominated to by the advertised registration close date. If the full team is not entered by this due date, players will be selected in one of our other teams. Friendship teams are required to abide by the same Code of Conduct as the club selected teams and always show respect to the game and the officials.
Training Times & Venues: Each team is allocated a weekly 45-minute training session held after 4:00pm from Monday – Thursday. Training is held at the following stadiums:
Warrandyte Sports Complex (WSC) – Andersons Creek Primary School, Drysdale Road, Warrandyte
Donvale Christian College (DCC) – 155 Tindals Rd, Donvale (access via Gate 1)
Warrandyte High School (WHS) – Cnr Warrandyte & Alexander Road, Warrandyte (access off Alexander Road – Carpark 2)
Coaches & Team Managers: Our coaches are volunteers and are usually former or current players or parents with basketball experience. Coaches over 18 years of age must obtain a Working With Children Check. If you are interested in coaching, we welcome you to nominate for selection. Simply record your interest in your child's PlayHQ registration form.
Each Redbacks team requires a parent to take on the role of Team Manager. Team Manager's details are to be provided to as soon as one has been appointed. The Team Manager's responsibilities include compiling a scoring roster, communicating game details with the team each week and being the point of contact for team members.
Uniforms: The uniform for Warrandyte Redbacks includes a reversible playing singlet and shorts. Both items can be purchased from the Warrandyte Basketball Uniform Shop located at the Warrandyte Sports Complex. Orders can be made during Uniform Shop opening times or via . Optional merchandise is also available at the shop and includes a Redbacks T-Shirt, a Redbacks jumper and Molten Basketballs (available at a discounted price).
Help Needed: There are many ways Warrandyte Basketball needs the support from player parents. Currently, our volunteer committee invest many hours managing our 3 programs (Redbacks, Junior Venom, Senior Venom). We are always looking for passionate basketball people to join our committee but are also looking for people who can assist in 'off-committee' roles. Examples include:
Diary Article Co-ordinator
Uniform Shop Assistant
Fundraising Assistants
Washing (seeking multiple volunteers to run a rotating weekly washing roster for court towels and/or clash tops)
Handyman for odd jobs
Any other assistance you think we could utilise.
If you believe you can help (even in a small way) please email . We welcome and appreciate any contribution you can offer.
Membership: On completion of Registration, payment of the Registration Fee and the player's name being entered in the register of members, the player is registered and deemed to be a Playing Member of Warrandyte Basketball and subject to the Rules of the Association (if the player is under age 18, his/her parent or guardian listed on this registration form is deemed to be an Associate Member).
Conditions of Registration:
All Members agree to abide by all Rules and policies of Warrandyte Basketball.
All Members agree to abide by Basketball Victoria's Codes of Conduct endorsed by Warrandyte Basketball in relation to Players, Coaches, Parents and Spectators.
Refunds will be considered in accordance with the Registration Refund Policy.
Warrandyte Basketball retains the right to use for publicity and advertising purposes, photographs taken during the season, on the understanding that no child's surname will be identified in any published photograph without the permission of a parent/guardian.
Parents/guardians are responsible for their child/ren and their child/ren's behaviour at all times during training sessions and games.
Parents/guardians authorise Warrandyte Basketball to oversee or provide emergency medical care to their child as deemed necessary in the event of injury and the parent/guardian cannot be reached in a timely manner. Parents/guardians agree to pay all associated costs with the provision of such services.
Parents/guardians consent to their child/ren's name and parent details to be published in team lists.